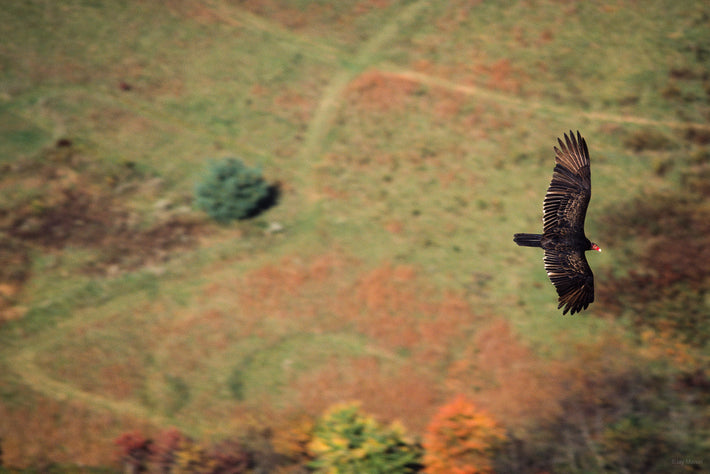 Aerial of Bird, North Carolina
North Carolina
Kodachrome, 1980
From the X-USA collection
I am obsessive-compulsive when it comes to filing my work.
Years ago I met another photographer whose work I admired, and I asked him about a particular negative because I had loved the print and he said, "Sure, I'll show you," opened up a drawer in the kitchen and there with the knives and forks were his negatives.
What does all this have to do with Cross-USA? It caused me to determine that I never wanted to be like this guy. That I wanted to be careful about filing my work and accurate about categorizing it.
Cross-USA happened as a group or collection when I realized I had no idea how to classify or file the many images I shot while traveling cross-country on various jobs and self-assigned things.
You won't find much on particular cities like New York, San Francisco or Chicago because they each are in their own categories.
Paper & Printing
Epson Legacy
Baryta
Baryta paper has a white, smooth satin finish with the look and feel of the revered silver halide F-surface darkroom papers and provides excellent image permanence.
13x19 prints are placed on backing board inside a clear plastic bag. They are then packaged in a custom 15x21x3 corrugated box protected inside 3 inches of charcoal foam. More about shipping...
20x30 prints are shipped flat in MasterPak PrintPak Art Shipping Sleeves. A "container within a container" with multiple layers of protection.
40x60 Paper prints will rolled and shipped in a archival tube. More about shipping...
Dye-Sublimation onto Aluminum (Metal)
Transferring the print to aluminum produces a vivid, archival quality print that is scratch resistant, doesn't require glass or framing, and is lightweight and easy to hang. More about the paper...
Metal prints are shipped in a sturdy 44x63x3 wooden crate. More about shipping...