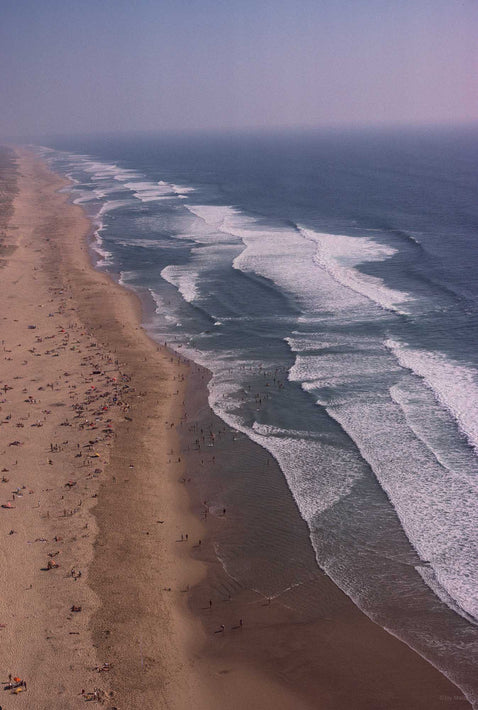 Aerial of Surf, Sea, Beach Vertical
France, 1980
Kodachrome

If you see Paris you must not think that this is France. It is no more than New York City is the USA.

There's much more to each country than its leading cities.

When I traveled to the South of France on a job I prided myself that no matter how many wonderful beaches I went to, I never did set foot into the water.

Truth be told I have a Woody Allen-like aversion to water and sand. And besides, the cameras aren't waterproof.

There were beaches in which you had to take the good with the bad and the ugly (you'll see). Since all photographers are voyeurs to some degree–I to a great degree– this was a wonderful time for me.
Paper & Printing
Epson Legacy
Baryta
Baryta paper has a white, smooth satin finish with the look and feel of the revered silver halide F-surface darkroom papers and provides excellent image permanence.
13x19 prints are placed on backing board inside a clear plastic bag. They are then packaged in a custom 15x21x3 corrugated box protected inside 3 inches of charcoal foam. More about shipping...
20x30 prints are shipped flat in MasterPak PrintPak Art Shipping Sleeves. A "container within a container" with multiple layers of protection.
40x60 Paper prints will rolled and shipped in a archival tube. More about shipping...
Dye-Sublimation onto Aluminum (Metal)
Transferring the print to aluminum produces a vivid, archival quality print that is scratch resistant, doesn't require glass or framing, and is lightweight and easy to hang. More about the paper...
Metal prints are shipped in a sturdy 44x63x3 wooden crate. More about shipping...