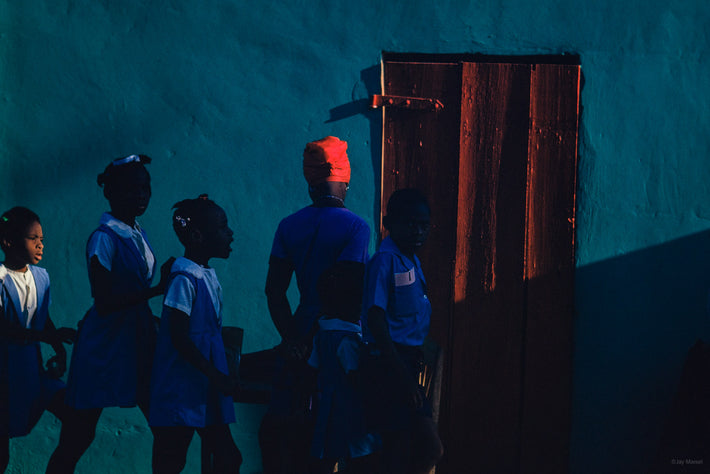 Blue Wall, Red Head Wrap, Haiti
Haiti
Kodachrome, 1973
From the Haiti I collection
Haiti was one of the first times I traveled in a "foreign" country. I had always wanted to go there. It was mysterious. It was exotic. It had more artists per capita than any other country. It had great music and fantastic drumming and "Voodoo." I was going to experience it all.
Of course, I interacted very little with these things. I was swept along by the sheer energy of the place. Every day was filled with wonder and anxiety and a desperate attempt to catch the quality of life which at that time, though full of hardships, was much better than today.
I went twice. Once before Papa Doc Duvalier and one after him. The first time in 1957 and a second time in 1973. I have only one image in the series from 1957, and all the rest have yet to be found. It is the only shoot that I can't find. Everything else is from the 1973 trip. If I ever find 1957, I'll put it up.
Paper & Printing
Epson Legacy
Baryta
Baryta paper has a white, smooth satin finish with the look and feel of the revered silver halide F-surface darkroom papers and provides excellent image permanence.
13x19 prints are placed on backing board inside a clear plastic bag. They are then packaged in a custom 15x21x3 corrugated box protected inside 3 inches of charcoal foam. More about shipping...
20x30 prints are shipped flat in MasterPak PrintPak Art Shipping Sleeves. A "container within a container" with multiple layers of protection.
40x60 Paper prints will rolled and shipped in a archival tube. More about shipping...
Dye-Sublination onto Aluminum (Metal)
Transferring the print to aluminum produces a vivid, archival quality print that is scratch resistant, doesn't require glass or framing, and is lightweight and easy to hang. More about the paper...
Metal prints are shipped in a sturdy 44x63x3 wooden crate. More about shipping...