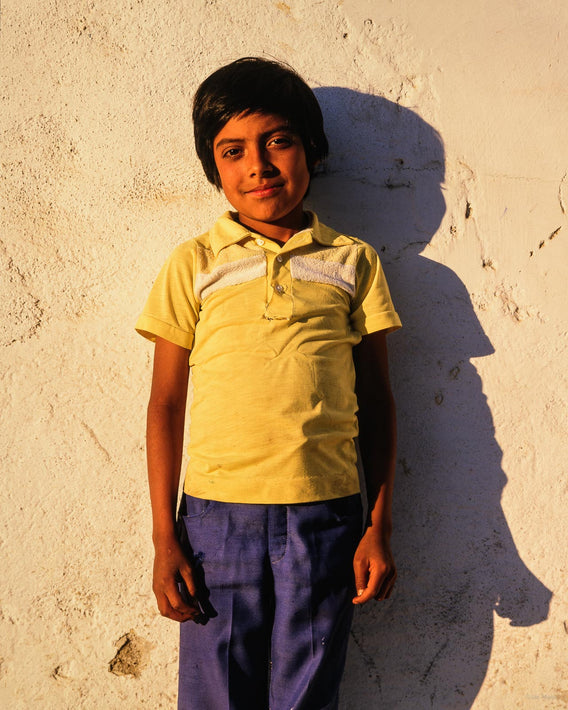 Boy in Yellow, Oaxaca
Mexico
1986, Kodachrome

I was a full-on commercial photographer for many years. I stopped doing it around 1995, but I always tried for jobs that would let me do whatever I wanted to do.

In 1986 I get a call from Connie Sullivan of Polaroid. She tells me she would like to send me to Oaxaca to shoot whatever I want. I'm torn and tell her so, "Look, I only shoot Kodachrome. I'm not that happy with Polaroid film." She patiently explains to me that the point of it all is to promote their Polaroid back that would hold Ektachrome or Fujichrome 4x5 film envelopes. OK, that I can do.

I have to leave immediately and I remember that Joel Meyerowitz, master of 4x5 view cameras, has offered to spend a day with me teaching me how to use it. But there's no time.

Off I go with my wife L.A., assistant Tom Mason, two big cases of film, and my 4x5 Linhof view camera. We get into the cab, ready to leave for the airport and my gut says bring the 4x5 Graflex.

Now the Graflex is a heavy camera, but not that heavy. It's like an SLR on steroids–you have to look down into it. The image on the ground glass is glorious and I take all these old 4x5 lenses.

The shoot went well. I probably handheld with the Graflex 80% of the time.

Everybody liked the shoot and they want to do an exhibit of the images. I said I would only do it if the prints were dye transfers. Connie (from Polaroid) then said, "Have I ever let you down?"

"No."

"Then trust me on this. The prints will be Cibachrome and they'll be terrific. Trust me."

I said OK without much enthusiasm because I hated Cibachromes, would not even take them for free, hated them.

When I went to the exhibit, the prints were wonderful. It was as if the printer had gotten into my head and knew exactly what I wanted. His name was Michael Wilder. He is an amazing printer. I'm not technically inclined so I just regard him as a wizard.

When I first got back from the shoot I called Joel Meyerowitz to apologize for not taking up his offer.

I said I loved it. I shot 600 sheets of film in a few days.

I heard him chuckle and then say, "You know Jay, I don't think you have quite grasped the concept of the big camera."

P.S. This is Oaxaca III. If you go back to the collections you can see Oaxaca I & II, many are 35mm Kodachrome from the same shoot.
Paper & Printing
Epson Legacy
Baryta
Baryta paper has a white, smooth satin finish with the look and feel of the revered silver halide F-surface darkroom papers and provides excellent image permanence.
13x19 prints are placed on backing board inside a clear plastic bag. They are then packaged in a custom 15x21x3 corrugated box protected inside 3 inches of charcoal foam. More about shipping...
20x30 prints are shipped flat in MasterPak PrintPak Art Shipping Sleeves. A "container within a container" with multiple layers of protection.
40x60 Paper prints will rolled and shipped in a archival tube. More about shipping...
Dye-Sublimation onto Aluminum (Metal)
Transferring the print to aluminum produces a vivid, archival quality print that is scratch resistant, doesn't require glass or framing, and is lightweight and easy to hang. More about the paper...
Metal prints are shipped in a sturdy 44x63x3 wooden crate. More about shipping...