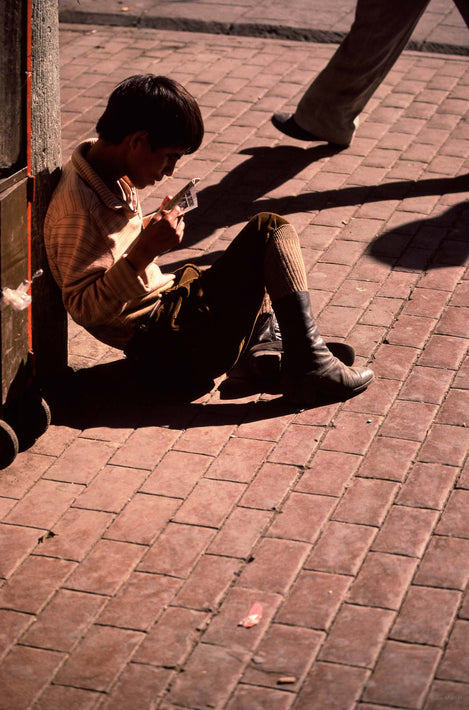 Boy Reading, Oaxaca
Mexico
1986, Kodachrome
From the Oaxaca I collection

Mexico is one of the first foreign countries I photographed when I was in my 20s (the very first was Haiti). I've been there on personal trips and assignments.

It always yields great times, and if I'm fortunate, images I like. It was the first time in my life that I saw houses in color!

I saw people who have been photographed for years, by tourists and photographers, who were still very patient with the intrusions into their lives. As always, the people were the best part of Oaxaca.

Oaxaca is one of many cities in Mexico that I've worked on. It is, however, a city I also photographed with 4x5 cameras, but more on that later.
Paper & Printing
Epson Legacy
Baryta
Baryta paper has a white, smooth satin finish with the look and feel of the revered silver halide F-surface darkroom papers and provides excellent image permanence.
13x19 prints are placed on backing board inside a clear plastic bag. They are then packaged in a custom 15x21x3 corrugated box protected inside 3 inches of charcoal foam. More about shipping...
20x30 prints are shipped flat in MasterPak PrintPak Art Shipping Sleeves. A "container within a container" with multiple layers of protection.
40x60 Paper prints will rolled and shipped in a archival tube. More about shipping...
Dye-Sublimation onto Aluminum (Metal)
Transferring the print to aluminum produces a vivid, archival quality print that is scratch resistant, doesn't require glass or framing, and is lightweight and easy to hang. More about the paper...
Metal prints are shipped in a sturdy 44x63x3 wooden crate. More about shipping...