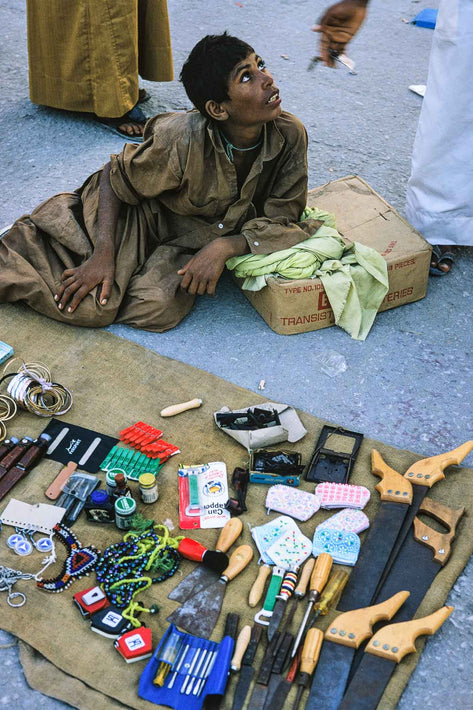 Boy with Merchandise Looking Up, Abu Dhabi
UAE
1974, Kodachrome
From the Abu Dhabi collection

I went to Abu Dhabi on a job for an oil well logging company called Schlumberger. I've put a few pictures of that here because they were extremely exciting for me on a visual level.
When I first went there in 1974 the wealth of oil had not yet changed what was a simple area–you really couldn't get a good meal and accommodations were limited and the people had not been inundated by tourists and photographers so they were friendly and pleasant. I got the evil eye from only one guy, and that's in here too.
Paper & Printing
Epson Legacy
Baryta
Baryta paper has a white, smooth satin finish with the look and feel of the revered silver halide F-surface darkroom papers and provides excellent image permanence.
13x19 prints are placed on backing board inside a clear plastic bag. They are then packaged in a custom 15x21x3 corrugated box protected inside 3 inches of charcoal foam. More about shipping...
20x30 prints are shipped flat in MasterPak PrintPak Art Shipping Sleeves. A "container within a container" with multiple layers of protection.
40x60 Paper prints will rolled and shipped in a archival tube. More about shipping...
Dye-Sublimation onto Aluminum (Metal)
Transferring the print to aluminum produces a vivid, archival quality print that is scratch resistant, doesn't require glass or framing, and is lightweight and easy to hang. More about the paper...
Metal prints are shipped in a sturdy 44x63x3 wooden crate. More about shipping...