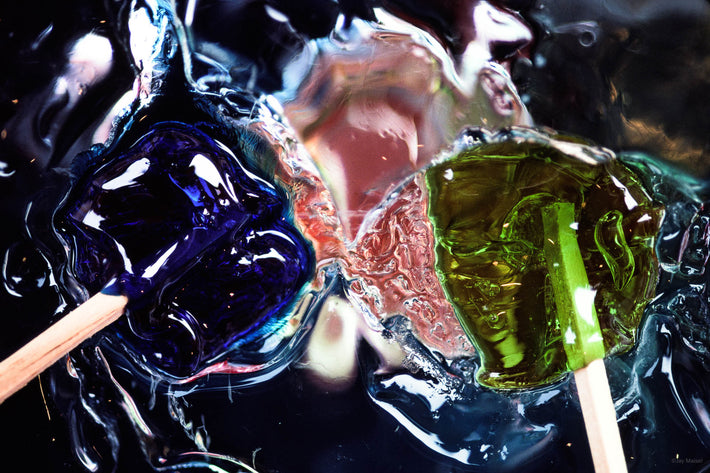 Candy in Ice, Tokyo
Japan, 1971
Kodachrome
From the Tokyo II collection
(Intro from Tokyo I)

To New Yorkers: When in Tokyo, don't ever cross the street against the lights. Drivers don't expect it, don't do it, you'll live longer.
 
Eat at the tiny, little "restaurants" that hold only 5-6 people. There are "millions" of them.
 
You're basically working in a carnival of people every day. It's a shooting gallery.
 
The kids are wonderful. The people are polite. Forget the subways: it's survival of the fittest, but fun.
 
Buy Fruit. It's shockingly better than any you've ever had before.
 
The fish market has left Tokyo–a great place to shoot. (Sorry!) I don't know where they moved to.
 
Tokyo, like NY, is overwhelming. Take it slow but enjoy the buzz. It is a place all its own.
Paper & Printing
Epson Legacy
Baryta
Baryta paper has a white, smooth satin finish with the look and feel of the revered silver halide F-surface darkroom papers and provides excellent image permanence.
13x19 prints are placed on backing board inside a clear plastic bag. They are then packaged in a custom 15x21x3 corrugated box protected inside 3 inches of charcoal foam. More about shipping...
20x30 prints are shipped flat in MasterPak PrintPak Art Shipping Sleeves. A "container within a container" with multiple layers of protection.
40x60 Paper prints will rolled and shipped in a archival tube. More about shipping...
Dye-Sublimation onto Aluminum (Metal)
Transferring the print to aluminum produces a vivid, archival quality print that is scratch resistant, doesn't require glass or framing, and is lightweight and easy to hang. More about the paper...
Metal prints are shipped in a sturdy 44x63x3 wooden crate. More about shipping...