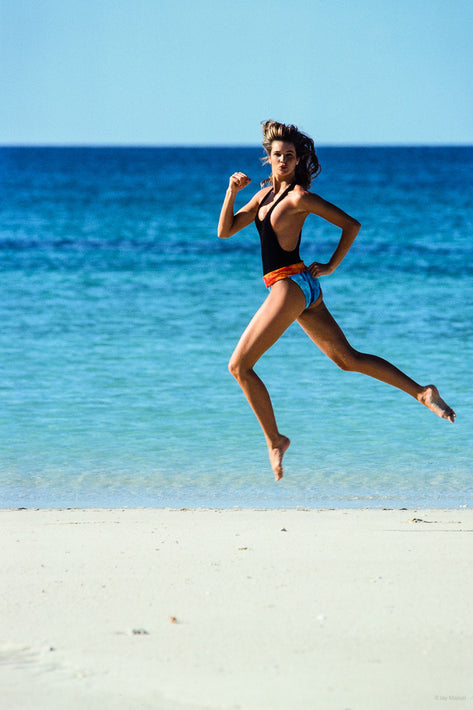 Elle Macpherson No 9
England, 1965
Kodachrome
From the Elle collection

Going back to 1965, I've photographed five Sports Illustrated swimsuit issues. Lots of beautiful, hard-working women. Some supermodels, all wonderful.

Then, for the last one I did, I got to photograph Elle Macpherson. She was amazing. I was overwhelmed. It really was almost impossible to get a bad image of her. 

Sometimes you hear how the photographer made the model look good–in this case she made me look good. She was a natural at looking magnificent. 

She was different from shoot to shoot. When I look at these images I'm struck by how many "looks", or personas, she has.

There was a quality that changed with each day of shooting. Always breathtaking. Always beautiful. Never a false move or an awkward movement. And a hard worker who brought perception, insight, and execution to each thing we did. 

If this sounds like an unabashed love letter, so be it.

Judge for yourself.

PS You'll notice in a few cases I have shown two of each , and in one case, four each of a set up. The reason is simple: I just couldn't bear to take them out.

PPS Thanks Elle.
Paper & Printing
Epson Legacy
Baryta
Baryta paper has a white, smooth satin finish with the look and feel of the revered silver halide F-surface darkroom papers and provides excellent image permanence.
13x19 prints are placed on backing board inside a clear plastic bag. They are then packaged in a custom 15x21x3 corrugated box protected inside 3 inches of charcoal foam. More about shipping...
20x30 prints are shipped flat in MasterPak PrintPak Art Shipping Sleeves. A "container within a container" with multiple layers of protection.
40x60 Paper prints will rolled and shipped in a archival tube. More about shipping...
Dye-Sublimation onto Aluminum (Metal)
Transferring the print to aluminum produces a vivid, archival quality print that is scratch resistant, doesn't require glass or framing, and is lightweight and easy to hang. More about the paper...
Metal prints are shipped in a sturdy 44x63x3 wooden crate. More about shipping...