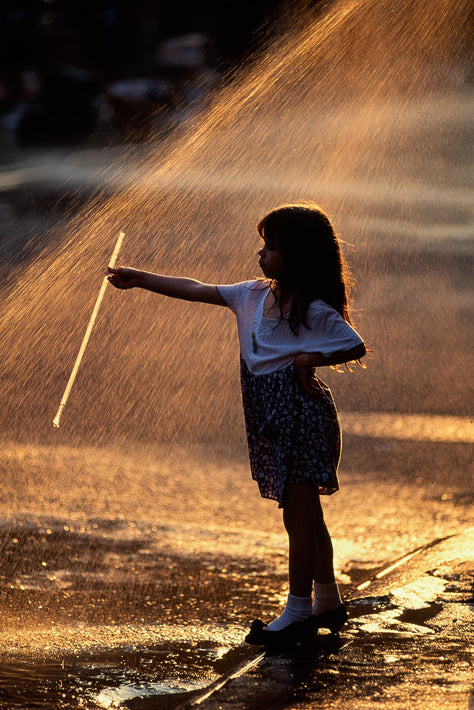 Girl Playing in Spray, NYC
New York
Kodachrome, 1994
Excerpt from Not About the F-Stop:
Everyone will tell you that you should always get model releases. This is absolutelyåÊtrue. I never get model releases.
Why? Because I have no intention of selling any of my images with people foråÊadvertising, annual reports, or stock of any kind.
Mainly, though, I never get model releases because I made a choice some years ago.
The choice was between getting pictures or getting model releases. I‰۪m talkingåÊabout street shooting here. I could shoot about 300‰ÛÒ400 people on a good day. If I got model releases, or tried to, maybe I would get 20‰ÛÒ30 people.
When I was doing advertising, there was one person whose sole job was to getåÊreleases from everyone I shot.
By the way, if you do get model releases, here is the proper way to do it (trust meåÊon this‰ÛÓit took me a long time to figure it out):
Once you decide to photograph someone, get the model release first. No pointåÊin shooting first and then having them say no after you photograph them.
Okay, you‰۪ve photographed them already and have gotten them to sign a modelåÊrelease. Next step, give them the signed model release, have them hold it under theiråÊface and photograph them and the model release together. If you do this, nobodyåÊcan ever come back and say, ‰ÛÏI didn‰۪t sign this.‰۝ Most importantly, you will have aåÊrecord of who goes with which model release. Otherwise, you will have file foldersåÊfull of model releases and have no idea who the people are in the signed releases.
The girl in the spray I came across in my neighborhood, on the corner of PrinceåÊand Elizabeth St. Remember the location, it‰۪s important.
What happened next is what drove me nuts. Someone who worked for me sentåÊthis picture out on a stock call to Nikon. Unfortunately, they bought the image.
Why unfortunately? You guessed it. I had no model release. It should have beenåÊmarked as such and never been sent out.
I called Nikon to explain the problem. ‰ÛÏSorry,‰۝ they said. ‰ÛÏIt‰۪s a done deal. If it‰۪såÊin the works, it can‰۪t be stopped.‰۝ I now have to find the kid and get a model releaseåÊfrom the parents.
Now, this was Little Italy 25 years ago‰ÛÓan enclave, not really open to outsiders.
I had only lived there about 22 years at that point. I was still an outsider.åÊI showed the picture to everyone.
‰ÛÏDo you know this kid?‰۝
‰ÛÏNo.‰۝
‰ÛÏLook at the picture, please‰۝
At the corner grocery, ‰ÛÏHey! Maybe you know this kid. It was shot right here atåÊPrince and Elizabeth.‰۝
‰ÛÏNever saw her in my life.‰۝
It went on for weeks. No one had ever seen this kid. I thought, ‰ÛÏI gotta find aåÊgo-between,‰۝ but I didn‰۪t know how.
Finally, I asked a kid who said, ‰ÛÏI don‰۪t know her, but my grandmother has livedåÊhere for like a 100 years. She‰۪ll know her.‰۝ Finally!
Grandma takes one look and says, ‰ÛÏYeah, that‰۪s so and so. She and her mom andåÊpop live over the grocery store on Prince and Elizabeth.‰۝
I trudge back there, negotiate the hallway, knock on the door and blurt out,åʉÛÏI took a picture of your kid and I need you to give me permission to use it. I‰۪ll giveåÊyou $200 to sign a model release.‰۝
They look at me, then look at the kid and they say to me, ‰ÛÏCan we have thatåÊpicture, too?‰۝
‰ÛÏWith my blessings!‰۝
Get releases or don‰۪t sell pictures.
Images have been taken from satellites. One can shoot from jet planes, helicopters, and trains, buses, cars, and get great stuff.
But you have to get down on the ground and start walking to get the intimate relationships that occur between the people in your images and you.
I've been a New Yorker all my life. I live in Brooklyn now, and I love it. But the moment I hit Manhattan, I feel the difference. The everyday pace, the nuttiness, the density.
New York is obviously only one place that has spawned a great history of street shooters. Every great city - Paris and London for two, also have a history of wonderful street photography.
In my own work, I try not to intrude or change the situation, but I will happily do portraits on confrontation.
I've been asked what I'm looking for when I go out to shoot. My answer is, "absolutely nothing." I'm not looking for anything. I'm just desperately trying to stay open to whatever is in front of me.
Others have then asked, "Then what motivates you to take an image?"
A rip in the fabric.
How the photographer got there is indescribable and mysterious. It stops dead in their tracks those who would explain the whole business for us and make logical and predictable the content of photographs.
- Phil Perkis
Something, (God knows what) that delights me, the unexpected beam of light, the gesture of a hand or face, the surprising juxtaposition of colors, anything that makes me smile or takes my breath away.
I, like most of us, miss most of the shots I try for but I console myself as I console you, by noting that we did see it and that's, after all, what it's all about.
Paper & Printing
Epson Legacy
Baryta
Baryta paper has a white, smooth satin finish with the look and feel of the revered silver halide F-surface darkroom papers and provides excellent image permanence.
13x19 prints are placed on backing board inside a clear plastic bag. They are then packaged in a custom 15x21x3 corrugated box protected inside 3 inches of charcoal foam. More about shipping...
20x30 prints are shipped flat in MasterPak PrintPak Art Shipping Sleeves. A "container within a container" with multiple layers of protection.
40x60 Paper prints will rolled and shipped in a archival tube. More about shipping...
Dye-Sublination onto Aluminum (Metal)
Transferring the print to aluminum produces a vivid, archival quality print that is scratch resistant, doesn't require glass or framing, and is lightweight and easy to hang. More about the paper...
Metal prints are shipped in a sturdy 44x63x3 wooden crate. More about shipping...