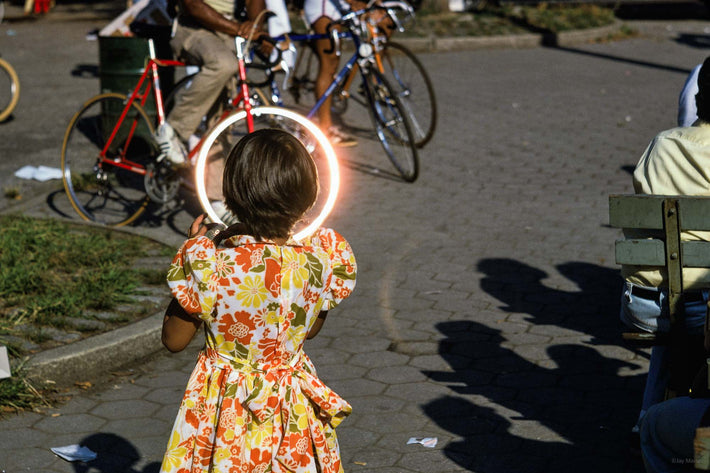 Girl with Bicycle Halo, NYC
New York City
Kodachrome
This kind of gesture is instantaneous. I miss about 99% of these pictures. Other guys are much better than I am on these kinds of pictures. And I'm always carrying a camera: it's turned on, with no lens cap, and still, I miss 99% of them. Are you carrying a camera or are you just going to describe what you missed? This is quick light; you must be ready, fast and lucky.
Paper & Printing
Epson Legacy
Baryta
Baryta paper has a white, smooth satin finish with the look and feel of the revered silver halide F-surface darkroom papers and provides excellent image permanence.
13x19 prints are placed on backing board inside a clear plastic bag. They are then packaged in a custom 15x21x3 corrugated box protected inside 3 inches of charcoal foam. More about shipping...
20x30 prints are shipped flat in MasterPak PrintPak Art Shipping Sleeves. A "container within a container" with multiple layers of protection.
40x60 Paper prints will rolled and shipped in a archival tube. More about shipping...
Dye-Sublimination onto Aluminum (Metal)
Transferring the print to aluminum produces a vivid, archival quality print that is scratch resistant, doesn't require glass or framing, and is lightweight and easy to hang. More about the paper...
Metal prints are shipped in a sturdy 44x63x3 wooden crate. More about shipping...