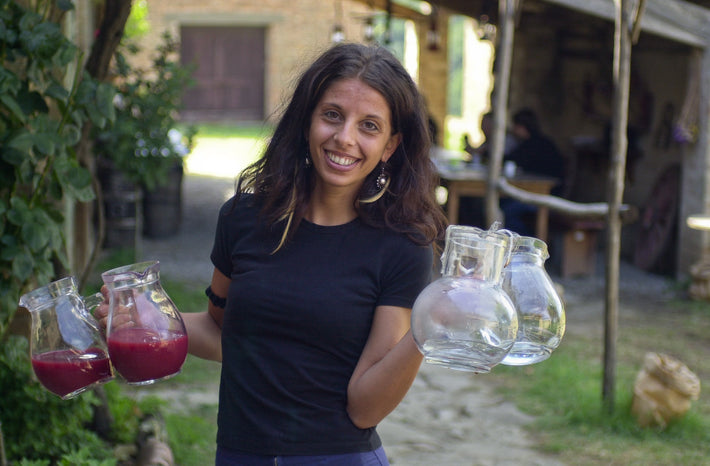 Girl with Pitchers, Smiling, Tuscany
Italy
Digital NEF, 2000-2001
(Intro from Siena Plus I)

This was a trip I took to the Tuscany Photo Workshop to teach. The workshop is not in a big town, but I think in a small one called Buonconvento. I took my class to Siena quite a bit. These pictures are labelled Siena; all others are in the "region" of Tuscany– God knows exactly where, I certainly don't.

When I'm shooting in Italy I'm having a great time. Tuscany, Vicenza, Venice, Rome, Burano. It doesn't matter. Italy is a gas. The people are always warm, funny, patient, and ok with being photographed.

There is joy photographing in Italy: the piazzas, the beaches, the buildings, eating. It's a great place to be.

I even studied Italian and observed in horror that the more I studied the worse I got at it.

I mention this not to memorialize my technical incompetence, but to further explain why I can't label the precise location of each image.

Let's explain my problem: My relationship with maps is an adversarial one. I approach maps with apprehension. I know that once I unfold it, the map, with some sort of perverse means, will never ever allow itself to return to its pure virginal shape.

Maps, once disturbed from their two-dimensional form, begin subtly at first, and then with increasing power, to fill whatever three dimensional void they can find.

I won't even talk about trying to read the map. Oh, I know north from south and all that stuff, I was in class that day. But finding out where a town is, or a road, and most importantly, where the hell I am, is way above my pay grade.

I hope that will answer all questions as to my whereabouts. And for God's sake don't complicate my life by suggesting a GPS.
Paper & Printing
Epson Legacy
Baryta
Baryta paper has a white, smooth satin finish with the look and feel of the revered silver halide F-surface darkroom papers and provides excellent image permanence.
13x19 prints are placed on backing board inside a clear plastic bag. They are then packaged in a custom 15x21x3 corrugated box protected inside 3 inches of charcoal foam. More about shipping...
20x30 prints are shipped flat in MasterPak PrintPak Art Shipping Sleeves. A "container within a container" with multiple layers of protection.
40x60 Paper prints will rolled and shipped in a archival tube. More about shipping...
Dye-Sublimation onto Aluminum (Metal)
Transferring the print to aluminum produces a vivid, archival quality print that is scratch resistant, doesn't require glass or framing, and is lightweight and easy to hang. More about the paper...
Metal prints are shipped in a sturdy 44x63x3 wooden crate. More about shipping...