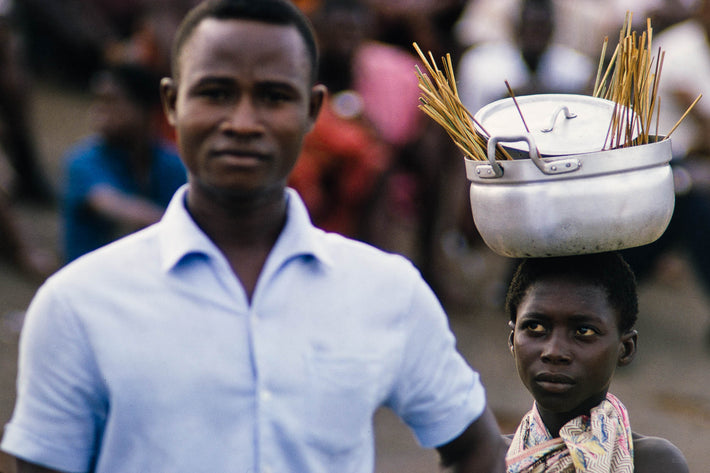 Girl with Pot on Head, Looking at Man, Ghana
Ghana
Kodachrome, 1966
From the Ghana collection

There was this guy in Ghana that I hypnotically watched as he opened twenty-four bottles of Coke with his teeth.

I don't have any pictures of it and I don't remember whether I shot them and lost them or if I just didn't shoot it.

I was in Ghana on assignment to cover the African athletes that were headed (training?) for the Olympics Games of 1968 .

At the time I went there Ghana was mostly two-story buildings, but at some point you ran into a soccer stadium that held 50,000 people. Years later, I told this to a New York taxi driver from Ghana, and he laughed and said they have a much bigger one now.

By the way, in the overall shot of the stadium, just above of the player in white in the lower left, there's a figure in the shadow of the stadium light pole. That's me.
Paper & Printing
Epson Legacy
Baryta
Baryta paper has a white, smooth satin finish with the look and feel of the revered silver halide F-surface darkroom papers and provides excellent image permanence.
13x19 prints are placed on backing board inside a clear plastic bag. They are then packaged in a custom 15x21x3 corrugated box protected inside 3 inches of charcoal foam. More about shipping...
20x30 prints are shipped flat in MasterPak PrintPak Art Shipping Sleeves. A "container within a container" with multiple layers of protection.
40x60 Paper prints will rolled and shipped in a archival tube. More about shipping...
Dye-Sublimation onto Aluminum (Metal)
Transferring the print to aluminum produces a vivid, archival quality print that is scratch resistant, doesn't require glass or framing, and is lightweight and easy to hang. More about the paper...
Metal prints are shipped in a sturdy 44x63x3 wooden crate. More about shipping...