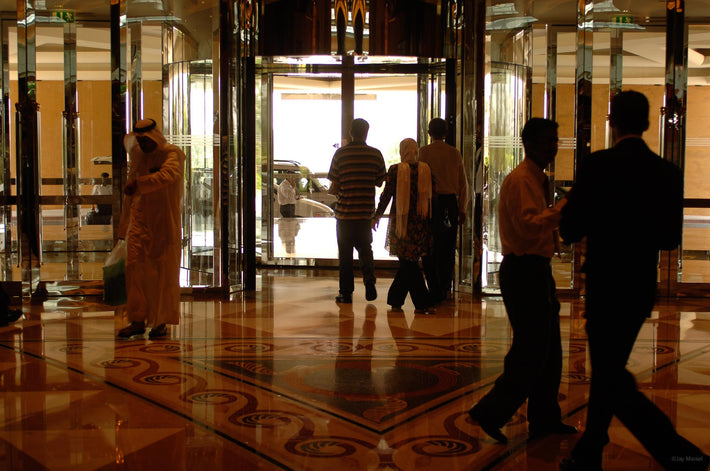 Hotel Lobby with People, Dubai
UAE
1974, Kodachrome
From the Dubai collection

The first thing you think when you land in Dubai, as you walk into the airport: Damn, this makes our airports in NYC look like hovels. They got trees growing inside, for God's sake.

The moment you leave the airport, the second you walk outside, it hits you: you have walked into a really hot steam room.

Daily temperatures over 100º Fahrenheit are an every day matter. Surprisingly when you go out of town and go to the desert it's cooler (possibly because there isn't any AC dumping hot air into the streets?).

All I could think of in Dubai was Kipling's line, "Only mad dogs and Englishmen go out in the midday sun."

That's why this collection is so different from all the others. Everyone goes from one air-conditioned venue to another via air-conditioned cars. Hence there are no street shots of people because there are no people in the streets.

Street shooting in Dubai consists of recording the amazing infrastructure and buildings. It is an astounding place.
Paper & Printing
Epson Legacy
Baryta
Baryta paper has a white, smooth satin finish with the look and feel of the revered silver halide F-surface darkroom papers and provides excellent image permanence.
13x19 prints are placed on backing board inside a clear plastic bag. They are then packaged in a custom 15x21x3 corrugated box protected inside 3 inches of charcoal foam. More about shipping...
20x30 prints are shipped flat in MasterPak PrintPak Art Shipping Sleeves. A "container within a container" with multiple layers of protection.
40x60 Paper prints will rolled and shipped in a archival tube. More about shipping...
Dye-Sublimation onto Aluminum (Metal)
Transferring the print to aluminum produces a vivid, archival quality print that is scratch resistant, doesn't require glass or framing, and is lightweight and easy to hang. More about the paper...
Metal prints are shipped in a sturdy 44x63x3 wooden crate. More about shipping...