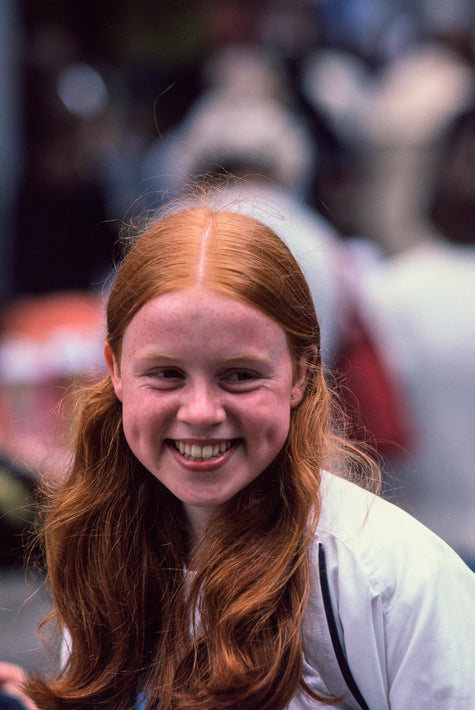 Laughing Redhead Girl, Ireland
UK
1982, Kodachrome
(Intro from Ireland I)

A few random thoughts on Ireland: Most of our ideas or standards of good looks are based on the Irish, or Scandinavia too, but when you look at the image held up for idealization, it's the Irish (just my opinion).

I was completely underwhelmed by the Irish landscape. The shore cliffs were amazing but by the time I'd been through all the "Irish dew" (rain) and every known shade of green, I'd had it.

But to get to Dublin and see the Irish, my God, what a people. And to talk with them (when you can get a word in). I think the national pastime of the Irish is the art of conversation.

I learned a few things I'll pass on to you. One is never ask directions of an Irishman who is sitting down. Trust me on this one.

Secondly, if you're a photographer and want to get the early light, never stay at an Irish Bed and Breakfast.

You'll be plied with food and entertainment with Irish lore and family information and neighborhood chatter. You'll feel fortunate if you can get the noon light.

As you can see, I  loved the cities and towns of Ireland, but as usual, the architecture and flora and fauna couldn't attract me as much as the Irish themselves. They were wonderful.
Paper & Printing
Epson Legacy
Baryta
Baryta paper has a white, smooth satin finish with the look and feel of the revered silver halide F-surface darkroom papers and provides excellent image permanence.
13x19 prints are placed on backing board inside a clear plastic bag. They are then packaged in a custom 15x21x3 corrugated box protected inside 3 inches of charcoal foam. More about shipping...
20x30 prints are shipped flat in MasterPak PrintPak Art Shipping Sleeves. A "container within a container" with multiple layers of protection.
40x60 Paper prints will rolled and shipped in a archival tube. More about shipping...
Dye-Sublimation onto Aluminum (Metal)
Transferring the print to aluminum produces a vivid, archival quality print that is scratch resistant, doesn't require glass or framing, and is lightweight and easy to hang. More about the paper...
Metal prints are shipped in a sturdy 44x63x3 wooden crate. More about shipping...