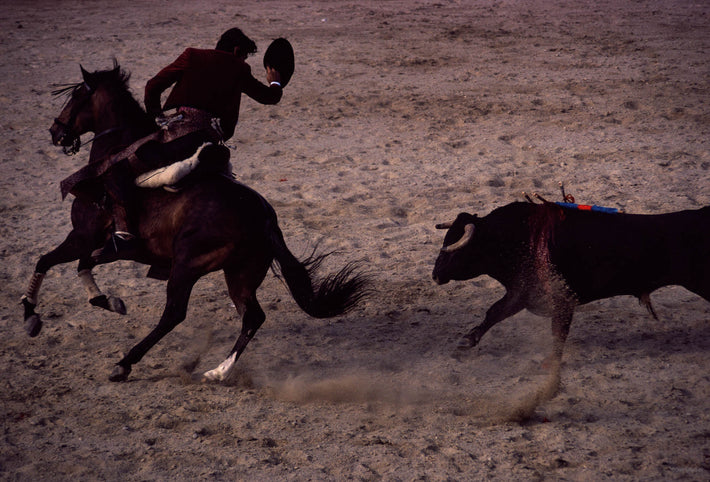 Man on Horseback with Hat, Chased by Bull, Arles
Arles, France
Kodachrome, 1980
In 1980 I was in Arles, in the South of France, to speak at the Perpignan Festival. Lucien Clergue, whom I knew and admired, said, "Why don't we shoot the bullfight?"
My astonished answer was, "Here? In France? A bullfight? A real bullfight?"
Lucien smiled and said, "Oh yes. A totally real bullfight. Quite serious."
I was doubtful. What would I see?
This series was obviously not from a single bullfight. I shot all afternoon.
Watching the spectacle, shooting the people, the crowds, the band, the cast of characters, the stages of the fight, the matador's finesse and the inevitable conclusion, I came away with some thoughts:
Why is this called a sport? The only loser is the bull. The bull is maimed and wounded at the outset by the banderilleros and picadors so that he can't move without pain and agony.
I know of no "sport" where one antagonist is crippled before the fight begins.
Yes, it is spectacle, the music and the crowds are spectacular, the participants dressed beautifully.
But it's not a beautiful thing to see.
It's not Death in the Afternoon as named by Hemingway. 
It's more like Murder in the Afternoon, or The Slaughter of the Innocents.
Usually I end these introductions by hoping you will enjoy the images.
I don't think you will enjoy these but I hope you will be moved by them.
Paper & Printing
Epson Legacy
Baryta
Baryta paper has a white, smooth satin finish with the look and feel of the revered silver halide F-surface darkroom papers and provides excellent image permanence.
13x19 prints are placed on backing board inside a clear plastic bag. They are then packaged in a custom 15x21x3 corrugated box protected inside 3 inches of charcoal foam. More about shipping...
20x30 prints are shipped flat in MasterPak PrintPak Art Shipping Sleeves. A "container within a container" with multiple layers of protection.
40x60 Paper prints will rolled and shipped in a archival tube. More about shipping...
Dye-Sublimation onto Aluminum (Metal)
Transferring the print to aluminum produces a vivid, archival quality print that is scratch resistant, doesn't require glass or framing, and is lightweight and easy to hang. More about the paper...
Metal prints are shipped in a sturdy 44x63x3 wooden crate. More about shipping...