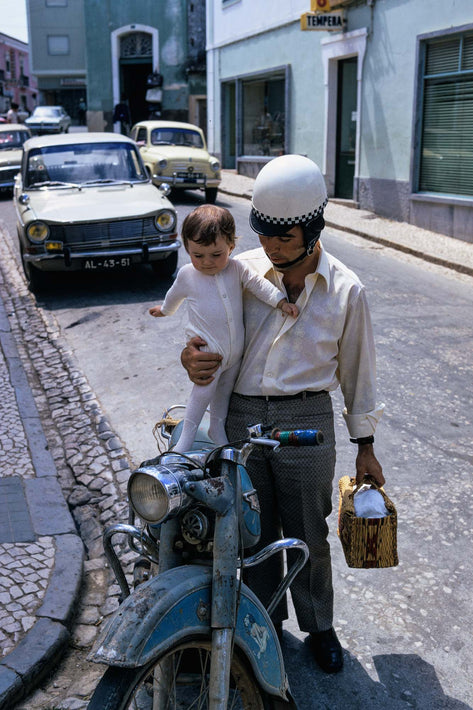 Man with Baby and Motorcycle, Portugal
Portugal
Kodachrome, 1972
From the Portugal collection

People, again. The most fascinating part of Portugal.

I've been to Portugal twice. Once on my own and once to photograph the harvest of tomatoes for the Heinz corporation annual report. It was another dream assignment because I got to travel around the world shooting harvests everywhere. Someday I'll put them in a collection for you.

This is a round about way of telling you the reason for images of the pickers eating their lunch.

I drove around the country and hardly ever knew where I was, when I was shooting. I'm really bad at taking notes.

One photograph at the end of this collection is "Blue Wall and Doves." It has become a signature image for me. There is no truth to the rumor that I carry the birds with me. The shot before is the whole scene as I first saw it. I thought it would be interesting for you to see the two together.
Paper & Printing
Epson Legacy
Baryta
Baryta paper has a white, smooth satin finish with the look and feel of the revered silver halide F-surface darkroom papers and provides excellent image permanence.
13x19 prints are placed on backing board inside a clear plastic bag. They are then packaged in a custom 15x21x3 corrugated box protected inside 3 inches of charcoal foam. More about shipping...
20x30 prints are shipped flat in MasterPak PrintPak Art Shipping Sleeves. A "container within a container" with multiple layers of protection.
40x60 Paper prints will rolled and shipped in a archival tube. More about shipping...
Dye-Sublimation onto Aluminum (Metal)
Transferring the print to aluminum produces a vivid, archival quality print that is scratch resistant, doesn't require glass or framing, and is lightweight and easy to hang. More about the paper...
Metal prints are shipped in a sturdy 44x63x3 wooden crate. More about shipping...