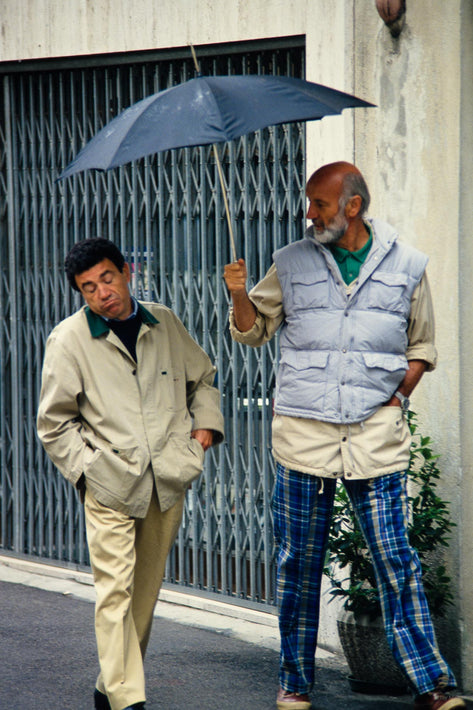 Man with Umbrella, Second Man Making Face, Vicenza
Italy
1994, Kodachrome
From the Vicenza I collection


Most of the times I went to Italy, I went on my own because I'd always wanted to see for myself what all the raving was about.

When I went to Vicenza in 1994, it was to do a calendar for Bank of Vicenza. 

I was very excited about it because they picked one photographer each year and I was told they gave the photographer a free hand.

I was to do two shoots, six months apart so we could have different seasons.

Now, Palladio was a very famous Renaissance architect in Vicenza and the surrounding areas. They we're very proud of him.

I shot the first shoot, went home to edit the pictures. I didn't send them anything but told them I'd bring them myself the next time I came back to Italy to shoot. (I don't trust the mail and I'd heard particularly bad horror stories about the Italian mail.)

When I returned six months later and made my tightly edited presentation, there was quiet in the room.

Finally Mr. Big in the group explained (very gently) that all the pictures were excellent but there were no Palladio buildings in there anywhere.

Time for me to explain (very gently) that they were know to give their photographers a free hand and I found that the whole area of Vicenza was exciting to me. It was a vibrant area full of life, not a historical repository of Palladio buildings, but a living, breathing place and anyway you've had Palladio buildings in your previous calendars and this would break new ground.

I sat down. He got up and said, "Va bene", which basically means alright, it's OK.

I breathed again.

I did the second part of the shoot. I photographed people, landscapes, details, farmland, churches, whatever I felt like shooting.

At some point I was photographing a house reflected in a river with water weeds as an integral element. Alberto Gasparotti, who was accompanying me on some of the shoots was watching me. I stopped and asked him, "Is it OK to shoot this or is there any problem ecologically with my showing all the reeds in the water?"

He looked at me and said, "You like it, you think it's beautiful, so you shoot it. Va bene."

At that point I realized that for all my protests of independence, all my commercial work had so socialized me that I was worried about things that I should not have worried about.

This experience did have a big part in influencing me to stop doing commercial work soon after that.

The calendar worked out well and they liked it so much I made a third trip for the exhibition of the photographs in a museum.
Paper & Printing
Epson Legacy
Baryta
Baryta paper has a white, smooth satin finish with the look and feel of the revered silver halide F-surface darkroom papers and provides excellent image permanence.
13x19 prints are placed on backing board inside a clear plastic bag. They are then packaged in a custom 15x21x3 corrugated box protected inside 3 inches of charcoal foam. More about shipping...
20x30 prints are shipped flat in MasterPak PrintPak Art Shipping Sleeves. A "container within a container" with multiple layers of protection.
40x60 Paper prints will rolled and shipped in a archival tube. More about shipping...
Dye-Sublimation onto Aluminum (Metal)
Transferring the print to aluminum produces a vivid, archival quality print that is scratch resistant, doesn't require glass or framing, and is lightweight and easy to hang. More about the paper...
Metal prints are shipped in a sturdy 44x63x3 wooden crate. More about shipping...