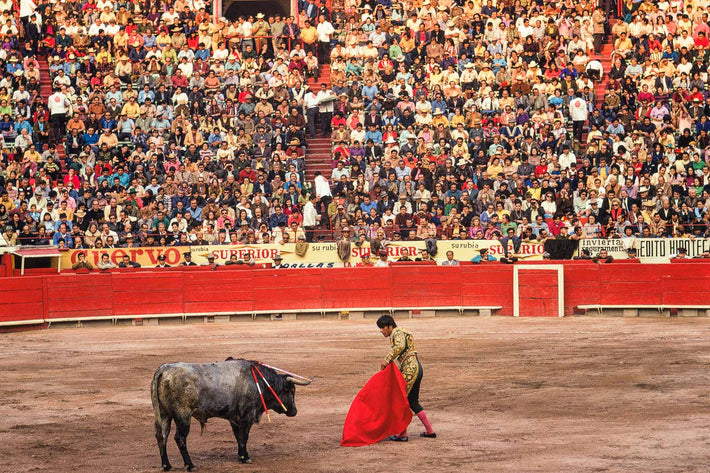 Matador Holding Cape, Mexico
Mexico
1986, Kodachrome

For those of you who are first-time visitors, I'd like to tell you there are other Collections on this website about Mexico: Oaxaca (#40), San Cristobal (#53), and Baja California (#9).

Mexico is the first foreign country I ever went to. Since then I've returned many times– to Oaxaca, San Cristobal, Acapulco, Monterrey, Baja, etc. Mexico City remains in memory as one of the first cities I went to. It blew my mind to see buildings that had color. The people were kind, beautiful and patient with me.

Monterrey was my first bullfight and in that afternoon I witnessed something that I couldn't photograph that was extremely rare (I found out later). The bull had fought so bravely that the crowd screamed to spare him. The bull walked around the arena until a gate was opened for him to exit. Before he left he turned back and snorted, as if to say, "I won, you bastards!"

I went to Jamiltepec, which at that time could only be reached by plane. I think it was Lausa Airlines. It was a DC-3 plane and as we were about to take off I thought it would be a good idea to mention to the pilot that they'd left the door open. I could tell he was the pilot because he had on a baseball cap. The co-pilot didn't have a uniform.

There's not much to do in Jamiltepec so the locals would line up in two rows on the airport runway as close as possible and the plane would land between the two rows.

I was later told they always did that, but all I could think of was what if the pilot dips his wing, or swerves. Everybody was fine with this.

"They do it all the time."

Me? I was scared shitless.
Paper & Printing
Epson Legacy
Baryta
Baryta paper has a white, smooth satin finish with the look and feel of the revered silver halide F-surface darkroom papers and provides excellent image permanence.
13x19 prints are placed on backing board inside a clear plastic bag. They are then packaged in a custom 15x21x3 corrugated box protected inside 3 inches of charcoal foam. More about shipping...
20x30 prints are shipped flat in MasterPak PrintPak Art Shipping Sleeves. A "container within a container" with multiple layers of protection.
40x60 Paper prints will rolled and shipped in a archival tube. More about shipping...
Dye-Sublimation onto Aluminum (Metal)
Transferring the print to aluminum produces a vivid, archival quality print that is scratch resistant, doesn't require glass or framing, and is lightweight and easy to hang. More about the paper...
Metal prints are shipped in a sturdy 44x63x3 wooden crate. More about shipping...