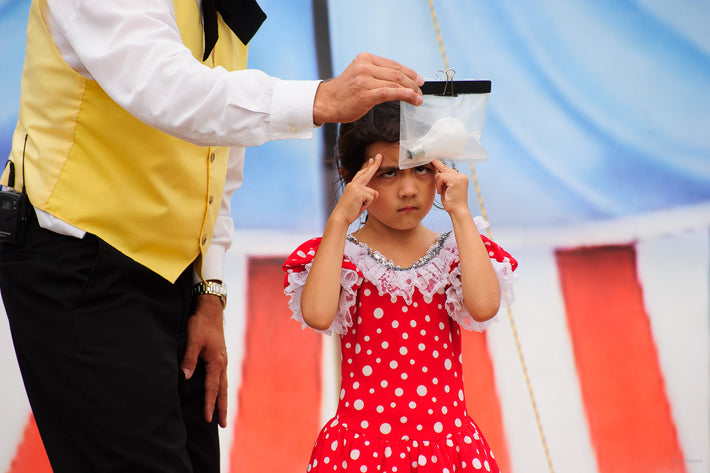 Mind Reading, Maine
USA
Kodachrome, 1994
From the Maine II collection
(This Intro is from Maine I)

I taught at the Maine Photo Workshop for years. The reason for teaching there and at many other workshops was never money. Not for me nor for most photographers I knew.

It was a chance to meet up with my contemporaries, whom I would never get to see, even people in NY, because we were traveling all the time (there used to be a thing called jobs).

Maine, like many other workshops, was a chance to actually spend a whole week in one place. You could unpack your suitcase, you didn't have to leave the next day. You were with kindred folks, you ate with your class or with friends. For once you were not the only photographer at the table.

Of course there were problems. Most workshops were in these out-of-the-way, beautiful places–Maine, Anderson Ranch, Truckee, Jackson Hole, etc., and I wanted my class to shoot people and there ain't enough people in those locations. But thankfully there were "fairs" in Maine. I was always careful to pick a week to come up when there was a fair.

I would send my class to the fair. I would join them to shoot and I was surprised and delighted to find they never paid attention to me, but preferred to shoot on their own, which made me feel great because that's one of the things I tried to teach.

I often would explain to the classes that I loved NY because "density creates opportunity." No matter how badly you fuck up, there's always going to be another chance a few moments later with somebody else.

So here are some images from Maine, from different towns, of different things, and of course, people at the fair.
Paper & Printing
Epson Legacy
Baryta
Baryta paper has a white, smooth satin finish with the look and feel of the revered silver halide F-surface darkroom papers and provides excellent image permanence.
13x19 prints are placed on backing board inside a clear plastic bag. They are then packaged in a custom 15x21x3 corrugated box protected inside 3 inches of charcoal foam. More about shipping...
20x30 prints are shipped flat in MasterPak PrintPak Art Shipping Sleeves. A "container within a container" with multiple layers of protection.
40x60 Paper prints will rolled and shipped in a archival tube. More about shipping...
Dye-Sublimation onto Aluminum (Metal)
Transferring the print to aluminum produces a vivid, archival quality print that is scratch resistant, doesn't require glass or framing, and is lightweight and easy to hang. More about the paper...
Metal prints are shipped in a sturdy 44x63x3 wooden crate. More about shipping...