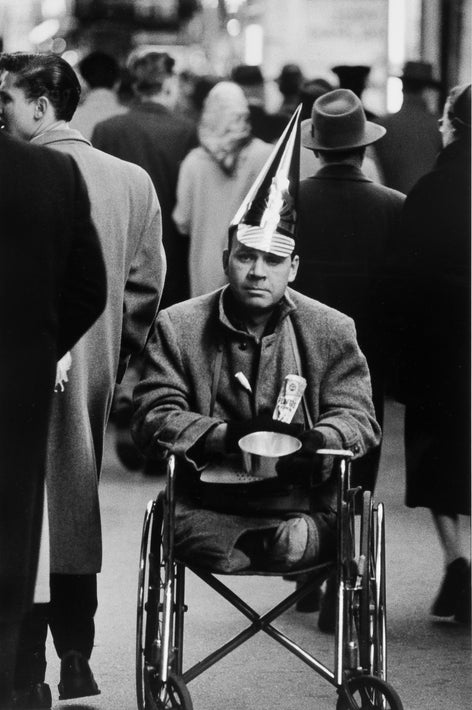 New Year's Eve No. 50, NYC
Venice, Italy
Kodachrome, 1994

My first full year as a photographer was 1954. It was also the first time I went on New Year's Eve to Times Square. It was frustrating because I was still shooting with borrowed cameras with slow, fixed focal length lenses. Add to that film that was low ISO, you get the idea.

The subject, though, was amazing, deafening sounds from horns, huge masses of peole, general good vibrations, pockets of violence, tenderness, people so packed that if you were in there your biggest job was to avoid being swept off your feet. Consequently, the shooting was always on the edge of a mob, where I could at least lift up the camera.

I went every year for many years. The targets were there but the "bull's eyes" were rare.
Paper & Printing
Epson Legacy
Baryta
Baryta paper has a white, smooth satin finish with the look and feel of the revered silver halide F-surface darkroom papers and provides excellent image permanence.
13x19 prints are placed on backing board inside a clear plastic bag. They are then packaged in a custom 15x21x3 corrugated box protected inside 3 inches of charcoal foam. More about shipping...
20x30 prints are shipped flat in MasterPak PrintPak Art Shipping Sleeves. A "container within a container" with multiple layers of protection.
40x60 Paper prints will rolled and shipped in a archival tube. More about shipping...
Dye-Sublimation onto Aluminum (Metal)
Transferring the print to aluminum produces a vivid, archival quality print that is scratch resistant, doesn't require glass or framing, and is lightweight and easy to hang. More about the paper...
Metal prints are shipped in a sturdy 44x63x3 wooden crate. More about shipping...