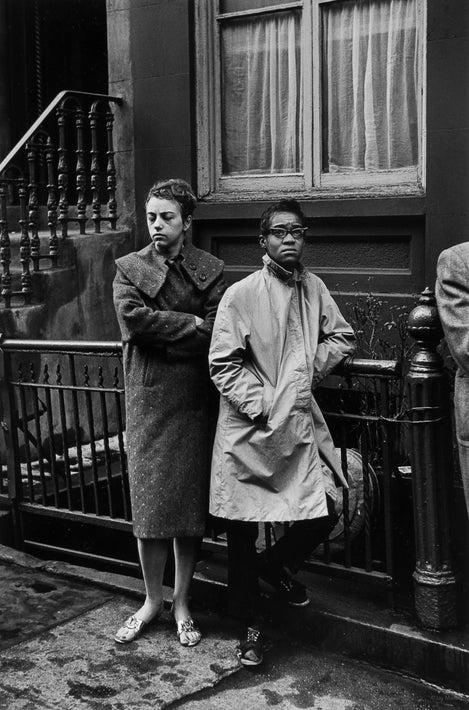 NY in the 1950s No. 33
Venice, Italy
Kodachrome, 1994

The following photos and introduction are from a book I did a few years ago, JAY MAISEL: New York in the '50s (Nazraeli Press):
New York has always been my muse from day one. It has challenged me, delighted me and acted as a flamboyant and elusive target.
I have been shooting New York for over 60 years now. And though I have achieved age, I can safely say I have never made my way to maturity so I have never been jaded or bored. I think all this is due to the grittiness and hectic quality of the city, you never capture it, it captures you.
"When you leave New York, it doesn't matter where you are, you're just out of town." Although the passage of time has changed me, it has obviously not changed these images. However, my perception of them has been substantially altered by the years gone by.
These are not my pictures. They were taken by a much younger man. I recently started really "seeing" these images for the first time in 50 years. They were like great-grandchildren coming to visit. I know them and they are most certainly mine, and they give me great joy. I look at them with enormous pride and they resonate for me but they are so completely new to me, so innocent and optimistic. They assume an exotic quality you never usually associate with your own work. I hope they are as new and joyous to you as they are to me.
Paper & Printing
Epson Legacy
Baryta
Baryta paper has a white, smooth satin finish with the look and feel of the revered silver halide F-surface darkroom papers and provides excellent image permanence.
13x19 prints are placed on backing board inside a clear plastic bag. They are then packaged in a custom 15x21x3 corrugated box protected inside 3 inches of charcoal foam. More about shipping...
20x30 prints are shipped flat in MasterPak PrintPak Art Shipping Sleeves. A "container within a container" with multiple layers of protection.
40x60 Paper prints will rolled and shipped in a archival tube. More about shipping...
Dye-Sublimation onto Aluminum (Metal)
Transferring the print to aluminum produces a vivid, archival quality print that is scratch resistant, doesn't require glass or framing, and is lightweight and easy to hang. More about the paper...
Metal prints are shipped in a sturdy 44x63x3 wooden crate. More about shipping...