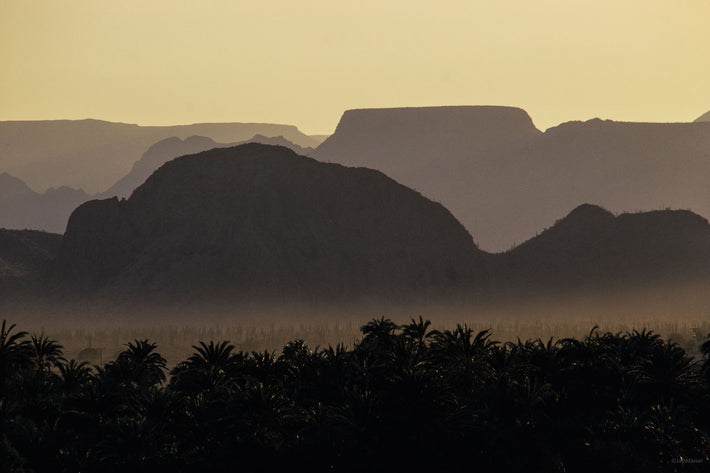 Palm Trees with Mesas, Baja
Baja, Mexico
Kodachrome, 1972
From the Baja collection
I am basically a city guy. Born in Brooklyn, I moved to Manhattan as soon as I could. At one point while in Cooper Union, I went to Green Camp, which served as our, "campus." It was actually two hours from New York City, and it was there that I first saw trees that were not planted in a row.
I was overwhelmed. It was my first taste of nature, and I loved it. However, I've never lived in "nature." I would visit the country once in a while and become immersed in it, but it was never an integral part of my life.
I went to Baja in 1964 and photographed one of the first swimsuits issues of Sports Illustrated. I loved it, but the models and swimsuits were my focus.
In 1972 I was asked to do a wilderness book for Time Life. There were to be no images of people, buildings, anything that referred to the hand of man. That was fine with me. My assistant Gabe Urbina and I flew with our pilot Tim Broussard in a small plane from San Deigo to Cabo San Lucas and back shooting from the air for days. We then were dropped off at a mountaintop airport in El Rosario where we met our driver and guide Rob Gross.
Within all that traveling one significant thing I remember is that we had 16 flat tires on the trip which Rob uncomplainingly fixed while Gabe and I explored wherever we found ourselves.
Baja was at that time quite primitive. The road was not a road but a series of rutted, rocky paths - thus all the flats. Our average speed was about eight miles an hour. Then we hit Laguna Chapala which is a flat dry lake bed. The average speed on that is as fast as you can go. You're so delighted to be finally out of second gear.
When we hit Laguna Chapala, we heard a plane buzzing, and I remember our pilot Tim telling us to make a big "X" with tape on the top of our vehicle, and he would drop a surprise.  Sure enough, a package with a makeshift parachute floated down to us. I smile even now when I remember seeing what it was. The average temperature was in the high 90℉ all day long.  In the package was a giant drum of ice cream which we knew we had to eat immediately or it would turn to slush.  I remember Gabe saying, "Too much! Too Much!" But we finished it. 
Baja was my second immersion into nature, and it was marvelous. Cactuses I had never heard of, trees that looked like something out of a Dr. Seuss book, and rocks. So many rocks.
This was a tactile as well as a visual delight. From the air, it was all patterns. On the ground, you had to be careful what you touched (rocks were ok, cactus, not so much).
I was such a novice at this. When I asked the first evening where would we "camp" (Jews don't camp), Rob said anywhere we want and I countered with, "Don't we have to find barbecue places?" I was, of course, new about this - I was told you could camp anywhere you want. I said, "On the road?"
"Of course, " I was told.
Oh well…
Paper & Printing
Epson Legacy
Baryta
Baryta paper has a white, smooth satin finish with the look and feel of the revered silver halide F-surface darkroom papers and provides excellent image permanence.
13x19 prints are placed on backing board inside a clear plastic bag. They are then packaged in a custom 15x21x3 corrugated box protected inside 3 inches of charcoal foam. More about shipping...
20x30 prints are shipped flat in MasterPak PrintPak Art Shipping Sleeves. A "container within a container" with multiple layers of protection.
40x60 Paper prints will rolled and shipped in a archival tube. More about shipping...
Dye-Sublimation onto Aluminum (Metal)
Transferring the print to aluminum produces a vivid, archival quality print that is scratch resistant, doesn't require glass or framing, and is lightweight and easy to hang. More about the paper...
Metal prints are shipped in a sturdy 44x63x3 wooden crate. More about shipping...