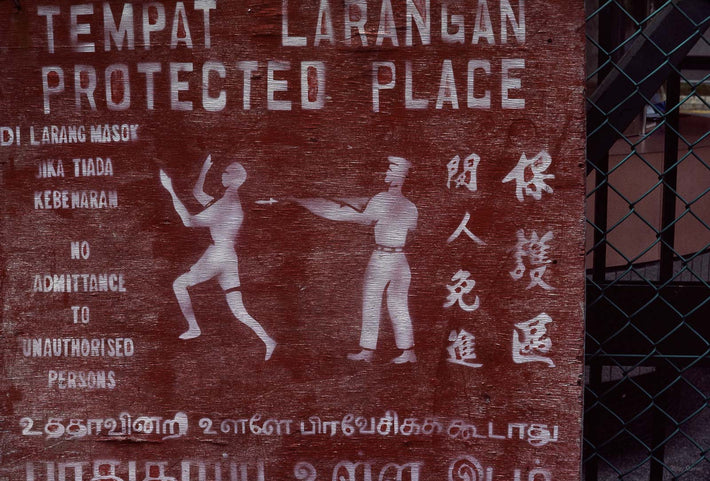 Protected Place, Singapore
Singapore
Kodachrome, 1978
From the Singapore collection

I had always been impressed with Singapore: tiny with a strong, paternalistic, intrusive government; city-state with a dynamic economy; one of the best airlines in the world; great food, no crime, etc.

I went there twice about fifteen to twenty years apart. The first time, I was on assignment to shoot the OCBC building (Overseas Chinese Banking Corp.) for United Technologies.

In a city of mostly low buildings, the OCBC building towered over everything else. The architect was I.M. Pei, who I think is one of the best, so it was a beautiful thing. It did, however, stick out like a sore thumb.

Fifteen or so years later, I went there again to photograph the Chase Manhattan Bank exterior. I could not find the OCBC building. It was not gone, it was just surrounded by so many newer, taller buildings.

As always, I was trying to shoot for myself when time allowed. The picture of Red Wall and Rope was photographed on the run between two shoots of Chase Manhattan bankers.

On the shoot of the OCBC building, I wanted to do an aerial of it. After much back and forth between me and the Singapore military, I finally got permission to shoot if I allowed a military guy to come up with me in the plane and if I sent them every frame of my shoot so they could take out anything they felt violated their security.

I sent them the shoot–every frame as they requested.

The only things they kept were a few images I had shot of the harbor while walking on the street. I thought to myself, there must be thousands of satellite shots of the harbor.

Oh well.
Paper & Printing
Epson Legacy
Baryta
Baryta paper has a white, smooth satin finish with the look and feel of the revered silver halide F-surface darkroom papers and provides excellent image permanence.
13x19 prints are placed on backing board inside a clear plastic bag. They are then packaged in a custom 15x21x3 corrugated box protected inside 3 inches of charcoal foam. More about shipping...
20x30 prints are shipped flat in MasterPak PrintPak Art Shipping Sleeves. A "container within a container" with multiple layers of protection.
40x60 Paper prints will rolled and shipped in a archival tube. More about shipping...
Dye-Sublimation onto Aluminum (Metal)
Transferring the print to aluminum produces a vivid, archival quality print that is scratch resistant, doesn't require glass or framing, and is lightweight and easy to hang. More about the paper...
Metal prints are shipped in a sturdy 44x63x3 wooden crate. More about shipping...