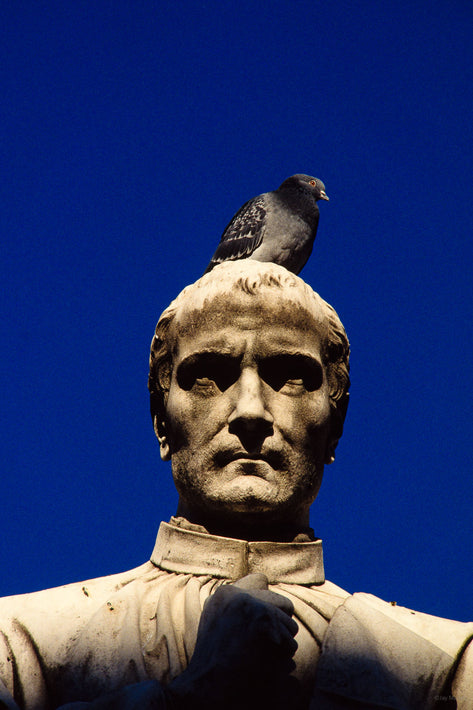 Statue, Pigeon, Unknown Locale, Italy
Italy
Kodachrome, 1964-1998
(This intro is from Italy Misc I)

This collection contains bits and pieces of Amalfi, Florence, Genoa, Lucca, Northern Italy, Orbitello, Padua, Pisa, and Porto Ercole. What I couldn't identify or remember I've labeled as Landscape or Unknown Locale.

Some may very well be mislabeled, but I've done the best I could.

As they say in Italy, va bene (it's ok, it's alright).

I hope it's apparent how much I love Italy, the people, their affection, the monuments, the countryside, and whatever else comes into my field of vision.

I felt welcome there.
Paper & Printing
Epson Legacy
Baryta
Baryta paper has a white, smooth satin finish with the look and feel of the revered silver halide F-surface darkroom papers and provides excellent image permanence.
13x19 prints are placed on backing board inside a clear plastic bag. They are then packaged in a custom 15x21x3 corrugated box protected inside 3 inches of charcoal foam. More about shipping...
20x30 prints are shipped flat in MasterPak PrintPak Art Shipping Sleeves. A "container within a container" with multiple layers of protection.
40x60 Paper prints will rolled and shipped in a archival tube. More about shipping...
Dye-Sublimation onto Aluminum (Metal)
Transferring the print to aluminum produces a vivid, archival quality print that is scratch resistant, doesn't require glass or framing, and is lightweight and easy to hang. More about the paper...
Metal prints are shipped in a sturdy 44x63x3 wooden crate. More about shipping...