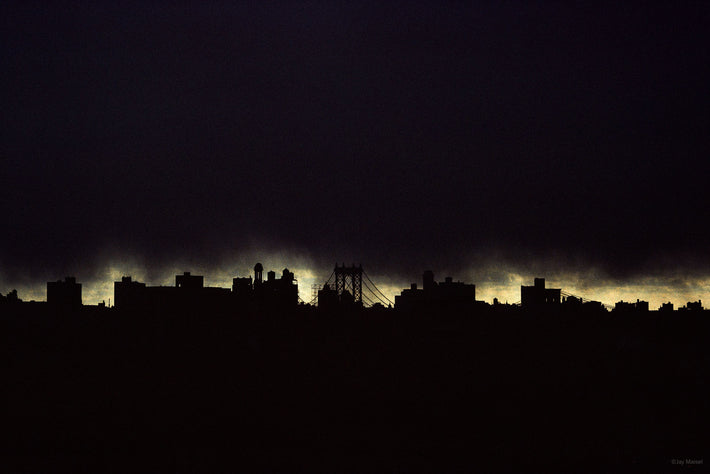 Storm Clouds and Bridge, NYC
New York City
Kodachrome, 1979
I had always planned to do a book called, "Home & Away" but as I looked through my work, I realized there was just too much to fit into one book.
Part of the reason for this is that for fifty years I lived in a unique building, the bank at 190 Bowery. In addition to an enormous amount of rooms and a decidedly decadent amount of space, it had 360° panoramic views of lower Manhattan,
I never had to worry about having a camera with me, I had all my cameras with me. "I live here."
I never took it for granted when I came home from exotic locations; it was always there waiting for me. I had snow, rain, incredible light, New York rooftops, and the street at my disposal. 
I've always been a dumpster diver and an incurable collector of tools, books, ephemera of all kinds. That too became grist for my mill. 
I have always tended to "stay in" since I traveled so much. This collection is the product of daily shooting for almost 50 years. 
It's about looking out at New York City, and about looking inwards to the place I had put together, which though voluminous and eccentric was "home" to me.
Paper & Printing
Epson Legacy
Baryta
Baryta paper has a white, smooth satin finish with the look and feel of the revered silver halide F-surface darkroom papers and provides excellent image permanence.
13x19 prints are placed on backing board inside a clear plastic bag. They are then packaged in a custom 15x21x3 corrugated box protected inside 3 inches of charcoal foam. More about shipping...
20x30 prints are shipped flat in MasterPak PrintPak Art Shipping Sleeves. A "container within a container" with multiple layers of protection.
40x60 Paper prints will rolled and shipped in a archival tube. More about shipping...
Dye-Sublimation onto Aluminum (Metal)
Transferring the print to aluminum produces a vivid, archival quality print that is scratch resistant, doesn't require glass or framing, and is lightweight and easy to hang. More about the paper...
Metal prints are shipped in a sturdy 44x63x3 wooden crate. More about shipping...