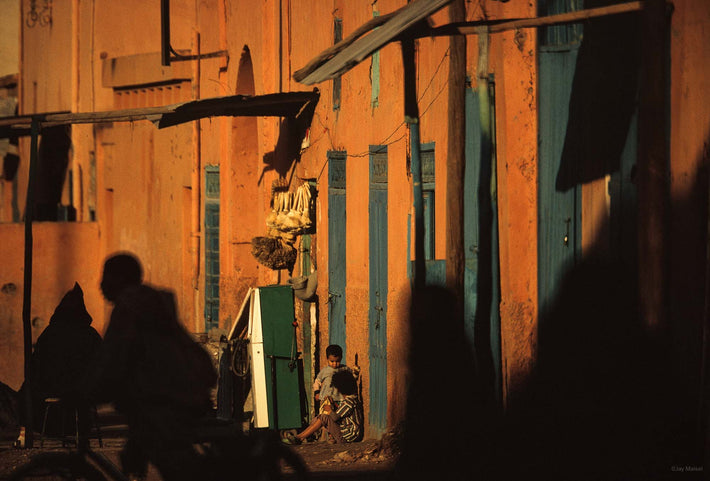 Street with Silhouetted Figures, Marrakech
Marrakech, Morocco
Kodachrome, 1971
Most of these images were made in Marrakech, near there, or on trips nearby. Marrakech is a paradox. In many places you are shooting things that are exotic, but there you are shooting things from another time completely. The bad news is that nobody wants to be photographed.
I have no doubt that there are great pictures to be made in Casablanca or Rabat, or any other places in Morocco. However if I ever get a chance to go back I'm heading for Marrakech again. 
Despite the fact that it is one of the most difficult places to shoot, the experience of walking, not just in an exotic location but in a totally different time, is irresistible. 
Only with children will you experience acceptance. Adults in Morocco really don't wish to be photographed. (Have there have been too many tourists there?)
Stepping into a place that looks as if you had entered another time in history is kaleidoscopic, intimidating, exciting, and inspiring.
Paper & Printing
Epson Legacy
Baryta
Baryta paper has a white, smooth satin finish with the look and feel of the revered silver halide F-surface darkroom papers and provides excellent image permanence.
13x19 prints are placed on backing board inside a clear plastic bag. They are then packaged in a custom 15x21x3 corrugated box protected inside 3 inches of charcoal foam. More about shipping...
20x30 prints are shipped flat in MasterPak PrintPak Art Shipping Sleeves. A "container within a container" with multiple layers of protection.
40x60 Paper prints will rolled and shipped in a archival tube. More about shipping...
Dye-Sublimation onto Aluminum (Metal)
Transferring the print to aluminum produces a vivid, archival quality print that is scratch resistant, doesn't require glass or framing, and is lightweight and easy to hang. More about the paper...
Metal prints are shipped in a sturdy 44x63x3 wooden crate. More about shipping...