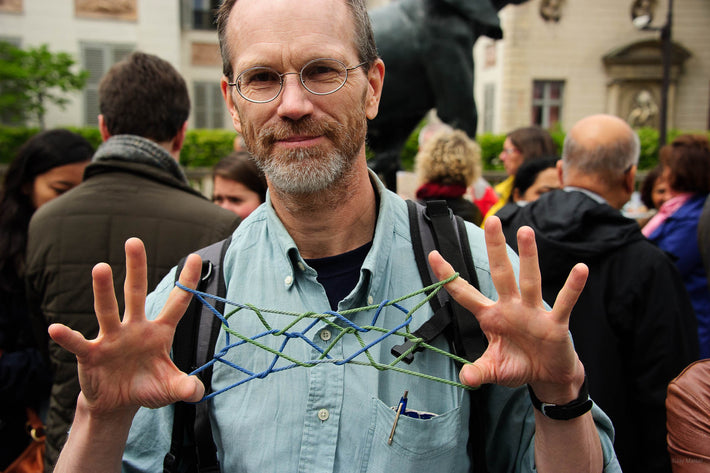 String Man, Paris
France
Digital NEF, 2012
From the Paris II collection
The last time I saw Paris.

We did a collection some time ago on the first time I saw Paris–it's the 10th collection on this website, Paris I (#10). This one is about the last time I saw Paris. It was an unusual time as I was doing "A Week in Paris with Jay Maisel," a two-hour-plus video tutorial with Scott Kelby where we talked, well really, I talked, Scott was my interviewer and straight man.

We went to all my favorite places. We walked, talked, photographed, and ate our way through Paris and a good time was had by all.

All the time I was shooting, I thought if all jobs were like this, getting paid for talking, as well as shooting, I could get used to it.

I hope you enjoy these images as much as I enjoyed making them.

If you'd like to see a preview promotional video of the tutorial course, got to https://www.youtube.com/watch?v=vjwUw6g6EAc.

To see the actually tutorial, and more photos, of me shooting off my big mouth for two hours, go to https://members.kelbyone.com/course/jmaisel_paris/.

P.S. It will cost you a few bucks for the full course, but I'm sure you'll profit from it.
Paper & Printing
Epson Legacy
Baryta
Baryta paper has a white, smooth satin finish with the look and feel of the revered silver halide F-surface darkroom papers and provides excellent image permanence.
13x19 prints are placed on backing board inside a clear plastic bag. They are then packaged in a custom 15x21x3 corrugated box protected inside 3 inches of charcoal foam. More about shipping...
20x30 prints are shipped flat in MasterPak PrintPak Art Shipping Sleeves. A "container within a container" with multiple layers of protection.
40x60 Paper prints will rolled and shipped in a archival tube. More about shipping...
Dye-Sublimation onto Aluminum (Metal)
Transferring the print to aluminum produces a vivid, archival quality print that is scratch resistant, doesn't require glass or framing, and is lightweight and easy to hang. More about the paper...
Metal prints are shipped in a sturdy 44x63x3 wooden crate. More about shipping...