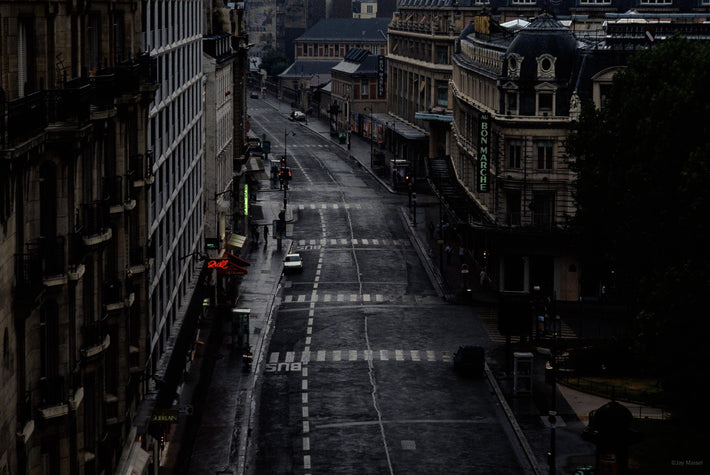 View and Rue de Sèvres, Sunday Morning, Paris
Paris, France
Kodachrome
From the Paris collection
The first time I saw Paris…
I didn't get to Europe until I was 32 years old. I had wanted to go for a long time. I had been photographing for nine years and had never been sent there. Business was good, but it never brought me to Europe. 
Finally, in 1963, I decided I had to go. I bought a 21-day excursion ticket. I stayed for four months.
I loved all of Europe, but Paris, Paris, Paris. I always came back there.
The first time I saw Paris I knew I had found my place to shoot. People ate at outside cafes, they embraced in the streets, every cliche I had ever seen went on right in front of me, and I loved it and shot all of it. The Eiffel Tower, Champs-Élysées, and every trite often overshot image would unfold in front of me. I tried to make them my own, my personal "take" on it, sometimes successfully, often not at all.
I've since returned a number of times, and it never disappoints. You are dealing with people who are so sure their food, art, fashion, language, women, and everything else is the best in the world. And who's to say no?
Many people are upset with the French, and Parisians in general, for their impatience with those who do not speak French well. I rather liked it because they were always themselves, they pandered to no one, and since I was one of the imbeciles who were not fluent in French, I was always left alone to work, not accepted, not rejected, but tolerated just enough and ignored just enough to be able to work.
Who could ask for anything more?
Paper & Printing
Epson Legacy
Baryta
Baryta paper has a white, smooth satin finish with the look and feel of the revered silver halide F-surface darkroom papers and provides excellent image permanence.
13x19 prints are placed on backing board inside a clear plastic bag. They are then packaged in a custom 15x21x3 corrugated box protected inside 3 inches of charcoal foam. More about shipping...
20x30 prints are shipped flat in MasterPak PrintPak Art Shipping Sleeves. A "container within a container" with multiple layers of protection.
40x60 Paper prints will rolled and shipped in a archival tube. More about shipping...
Dye-Sublimation onto Aluminum (Metal)
Transferring the print to aluminum produces a vivid, archival quality print that is scratch resistant, doesn't require glass or framing, and is lightweight and easy to hang. More about the paper...
Metal prints are shipped in a sturdy 44x63x3 wooden crate. More about shipping...