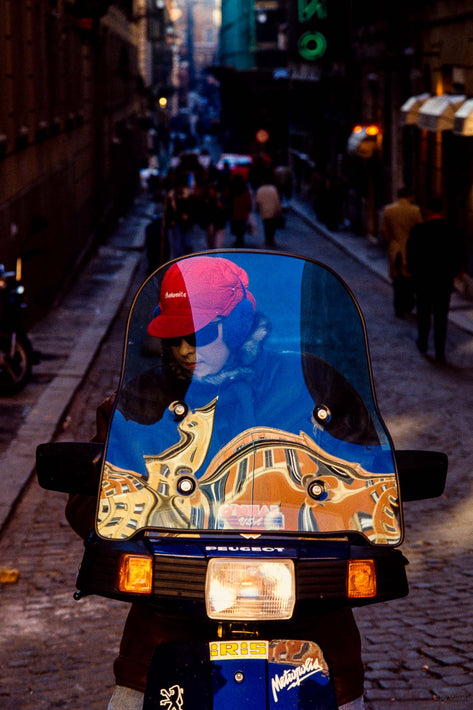 Woman on Scooter with Reflection, Rome
Rome, Italy
Kodachrome
From the Rome collection
Going as far back as High School, I was always told, "You've got to go to Rome, you particularly will love it."
I went, I liked it, but I didn't quite see how it was better than London or Paris or some of the other places I'd gone to when I first went to Europe in 1963, at age 32.
Over the years though, it hit me. Rome was like home. The people in Italy in general and Rome, in particular, were patient with the idiot American who ordered coffee calda because it sounded to him like calda meant cold (it does not).
In some countries language, or lack of it, is a barrier. The Parisians barely tolerate the accents of non-Parisians, and though I love Paris, I always feel the "tourist" because I don't speak French.
Rome, for me, was quite different. There was patience, warmth and a joie de vivre, (which though a French phrase, meaning "joy of life,") seems particularly apt for all of Italy where one of the phrases most often heard is, Va bene, which (roughly) translates to, "It's okay."
Once, I was planning to go to the Sistine Chapel with L.A. (my wife), and we were told that it was closed that afternoon.
"Sistine is closed? That's ridiculous. It's never closed!" I ranted.
As we wandered through other parts of the Vatican L.A. noticed a limousine pulling up in the courtyard. She said, "Look, Jay!"
I leaned out and saw Mikhail Gorbachev (then Premier of the Soviet Union) getting out of the limo.
I put the 300mm lens up to my eye and was told by a cop, gently waving a finger at me, "No, No, No" - But there was a warmth even in that.
I wanted to say "Va bene," but I didn't.
Paper & Printing
Epson Legacy
Baryta
Baryta paper has a white, smooth satin finish with the look and feel of the revered silver halide F-surface darkroom papers and provides excellent image permanence.
13x19 prints are placed on backing board inside a clear plastic bag. They are then packaged in a custom 15x21x3 corrugated box protected inside 3 inches of charcoal foam. More about shipping...
20x30 prints are shipped flat in MasterPak PrintPak Art Shipping Sleeves. A "container within a container" with multiple layers of protection.
40x60 Paper prints will rolled and shipped in a archival tube. More about shipping...
Dye-Sublimation onto Aluminum (Metal)
Transferring the print to aluminum produces a vivid, archival quality print that is scratch resistant, doesn't require glass or framing, and is lightweight and easy to hang. More about the paper...
Metal prints are shipped in a sturdy 44x63x3 wooden crate. More about shipping...