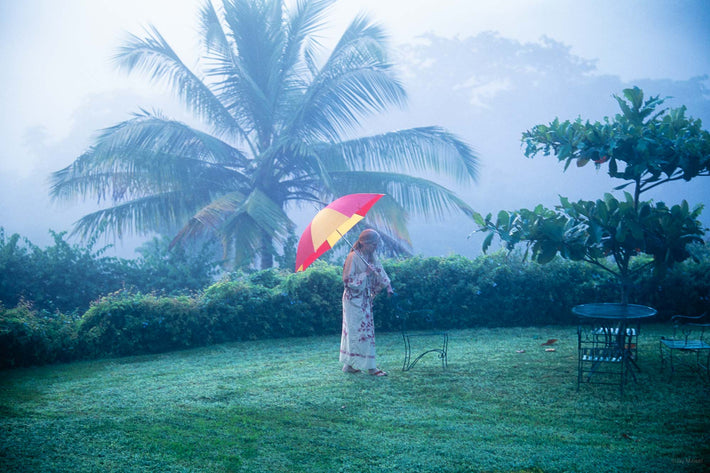 Woman, Umbrella, Mist, Jamaica
Jamaica
1970, Kodachrome
From the Jamaica I collection
I always have a great time in Jamaica.

The musicality of speech, the actual musical presence at all times.

Like Haiti, Panama, and a very rare few other places, the music is a rich addition, if not essential part of the fabric of everyday life in Jamaica.

It's not really photographic, it's on and in the air, but I think it adds an element of joy, aware or unaware, to the texture of life there.

People are sometimes reserved, but then they smile and it's a whole new ballgame. I've tried to show that in a few images.

There's a man named "Tiger" in here. He and I got to talking about karate, which we both did. As we chatted I asked if they did fingertip pushups, which I showed him. He said, "We do them a differently," and proceeded to do ten very quickly, but on his thumbs only.

Jamaica is full of surprises like that.
Paper & Printing
Epson Legacy
Baryta
Baryta paper has a white, smooth satin finish with the look and feel of the revered silver halide F-surface darkroom papers and provides excellent image permanence.
13x19 prints are placed on backing board inside a clear plastic bag. They are then packaged in a custom 15x21x3 corrugated box protected inside 3 inches of charcoal foam. More about shipping...
20x30 prints are shipped flat in MasterPak PrintPak Art Shipping Sleeves. A "container within a container" with multiple layers of protection.
40x60 Paper prints will rolled and shipped in a archival tube. More about shipping...
Dye-Sublimation onto Aluminum (Metal)
Transferring the print to aluminum produces a vivid, archival quality print that is scratch resistant, doesn't require glass or framing, and is lightweight and easy to hang. More about the paper...
Metal prints are shipped in a sturdy 44x63x3 wooden crate. More about shipping...