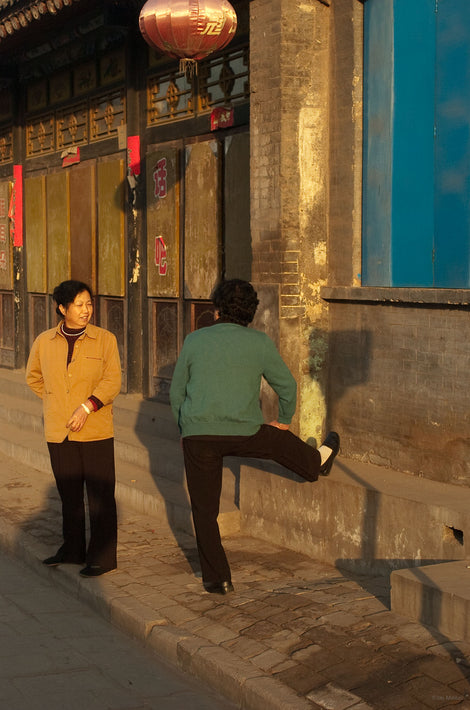 Woman with Leg Up, Pingyao
China
2004, NEF (Nikon Electronic Format)
(Intro from Pingyao I)

When I got to Pingyao, I thought to myself, Now this is fucking exotic. I've traveled to many cities but this is different.

It looks just like the travel books I've seen all my life, but it's the real thing. I'm really in an exotic place.

It's a very small town, for China, about 50,000 people, a walled city, not so many tourists. Nobody speaks English. Everyone is friendly. There is nobody saying "no pictures."

Beautiful young women performers, entertainers, wonderful food.

I try to remember that I came here to give a talk at a photographic festival, but all I really wanted to do is shoot.

When I finally gave my talk, there are about 600 people attending– biggest audience I've ever had.

One of the organizers, who spoke English, came up to me afterwards and apologized for the crowd. I asked why. He said we scheduled too many things for tonight. You would normally have had about 2,000 people.

One story I have about photo #2 of the old man who always greeted me when I came back to the hotel, exhausted at the end of the day, with the phrase, "You want a massage?" I always said no. On the afternoon I left I saw him, he said bye-bye, pointed to the young woman (photo #3) and said, "This lady massage lady."
Paper & Printing
Epson Legacy
Baryta
Baryta paper has a white, smooth satin finish with the look and feel of the revered silver halide F-surface darkroom papers and provides excellent image permanence.
13x19 prints are placed on backing board inside a clear plastic bag. They are then packaged in a custom 15x21x3 corrugated box protected inside 3 inches of charcoal foam. More about shipping...
20x30 prints are shipped flat in MasterPak PrintPak Art Shipping Sleeves. A "container within a container" with multiple layers of protection.
40x60 Paper prints will rolled and shipped in a archival tube. More about shipping...
Dye-Sublimation onto Aluminum (Metal)
Transferring the print to aluminum produces a vivid, archival quality print that is scratch resistant, doesn't require glass or framing, and is lightweight and easy to hang. More about the paper...
Metal prints are shipped in a sturdy 44x63x3 wooden crate. More about shipping...