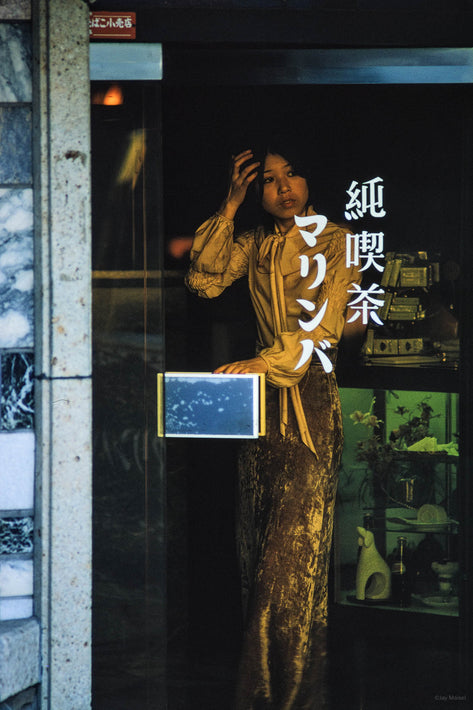 Young Woman at Door, Japan
Japan, 1971
Kodachrome
As you well know by now if you've endured all these collections, I rarely know exactly where I am at any given time.  I have barely enough cognitive ability to take the pictures.
Names, Places, Latitudes, Longitudes, way above my inclination or capacity.
Therefore I give you "Japan on the Road" as a way of tying together all the different places I shot in Japan.
Unlike most places I've shot, Japan offers itself in tantalizing details of houses, forests, gardens and shrines.  Where Tokyo offers people, the road offers tradition.
While there are images of people here, I think it's clear that I'm seduced by the land and the culture as well.  It's one of the few places that distracts me from my usual desire to  photograph just people.
Paper & Printing
Epson Legacy
Baryta
Baryta paper has a white, smooth satin finish with the look and feel of the revered silver halide F-surface darkroom papers and provides excellent image permanence.
13x19 prints are placed on backing board inside a clear plastic bag. They are then packaged in a custom 15x21x3 corrugated box protected inside 3 inches of charcoal foam. More about shipping...
20x30 prints are shipped flat in MasterPak PrintPak Art Shipping Sleeves. A "container within a container" with multiple layers of protection.
40x60 Paper prints will rolled and shipped in a archival tube. More about shipping...
Dye-Sublimation onto Aluminum (Metal)
Transferring the print to aluminum produces a vivid, archival quality print that is scratch resistant, doesn't require glass or framing, and is lightweight and easy to hang. More about the paper...
Metal prints are shipped in a sturdy 44x63x3 wooden crate. More about shipping...