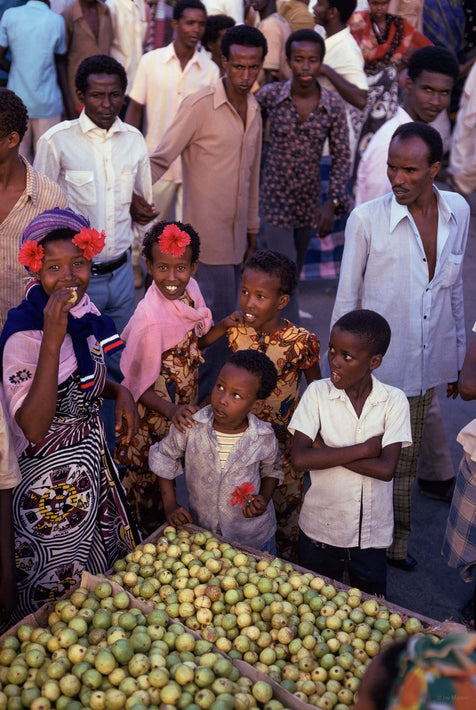 Children and Adults with Bin of Fruit, Somalia
Mogadishu, Somalia
Kodachrome, 1975
Somalia was also on my list of countries to do on "The Dream Assignment" I mentioned in Antananarivo.
 I was with my assistant, Gabe Urbina. Somalia was, to say the least, a bit troublesome. We had come from a few other African countries to Mogadishu, the major city in Somalia, with little money. No worries, I'll cash a check with the banker who was my contact there.
When we arrived, we spent the first five hours trying to find a hotel. The first one at which we had a reservation said they didn't. Our taxi driver took us around town and found nothing. I tell the driver to go back to the first hotel. We get there and to the manager's annoyance, I explained to him that we were going to sleep in the lobby.
He says, "You can't!"
I say, "What choice do I have? I'm not going to sleep in the street. If you have a problem with that, call the police. We'll sleep in jail."
He says, "Oh, believe me, you don't want to go to a Somalian Jail."
Then the cavalry moved in. A Swedish journalist staying at the hotel, overhearing our exchange, says to the manager, "I've got a big room, they can stay with me."
God bless him!
And that's the way it went. My banker contact, when I saw him, was of no use whatsoever.  He wouldn't even cash my check.
By the way, the reason for the crowded hotels and the general trouble we had was because we had arrived on October 17th - the anniversary of the Bolshevik Revolution that brought communism to Russia. Somalian's were at that point in history aligned with and favored the U.S.S.R.
Americans, not so much.
I had come to a country where it was not all smiles and hellos. You know you've got troubles when no one returns your smile. Plus, we kept getting arrested by groups of people who would insist on escorting us to police stations because we were taking pictures.
I had written permission to take pictures but my assistant Gabe would not show it to them.
Why, Gabe?! Why!?
And in broken English (he's from Honduras) he would very patiently explain to me (these are not his exact words) that this was a mob, and if he showed it to them, they would take it and destroy it.
When we get to the police station, Gabe refuses to go in. He explains very firmly his job is to stay with the equipment.
I get the letter before I go inside and I show it to the officers. They politely hand it back and tell me, basically that they don't care, I've done a very bad thing and I've tried to insult Somalia with photographs.
Now, I rarely go completely nuts on anybody. I started screaming at this guy something to the effect that I did not travel halfway around the fucking world, to piss off your country.
As I'm doing this I am picturing the whole scene in my head from the height of the ceiling, a birds-eye view of the maniac screaming, in a language the cop doesn't know, at the only person who could help him, and my out of body spirit says to me, "Good work asshole! You're are going to get to sleep in a Somalian Jail."
When I finished sputtering, the guy looks at me with a poker face, no smile, no disapproval and says, "It's okay, you can go now."
To this day I have no idea what happened.
The rest of the time was a lot better. Most of the people we came in contact with were not hostile, and some even friendly.
You'll see all this in the images. At least I hope so.
 Oh yeah, we saved our pennies. We ate pasta every day. (Italy was the colonial power in Somalia and did some really terrible things, but they did leave a great tradition of pasta.)
* Fair warning: If you're thinking of going to Somalia, don't. US State Department advises against travel in Somalia at the current time, "due to crime, terrorism, and piracy."
Paper & Printing
Epson Legacy
Baryta
Baryta paper has a white, smooth satin finish with the look and feel of the revered silver halide F-surface darkroom papers and provides excellent image permanence.
13x19 prints are placed on backing board inside a clear plastic bag. They are then packaged in a custom 15x21x3 corrugated box protected inside 3 inches of charcoal foam. More about shipping...
20x30 prints are shipped flat in MasterPak PrintPak Art Shipping Sleeves. A "container within a container" with multiple layers of protection.
40x60 Paper prints will rolled and shipped in a archival tube. More about shipping...
Dye-Sublimation onto Aluminum (Metal)
Transferring the print to aluminum produces a vivid, archival quality print that is scratch resistant, doesn't require glass or framing, and is lightweight and easy to hang. More about the paper...
Metal prints are shipped in a sturdy 44x63x3 wooden crate. More about shipping...